November 1 – Lincoln City to Ferndale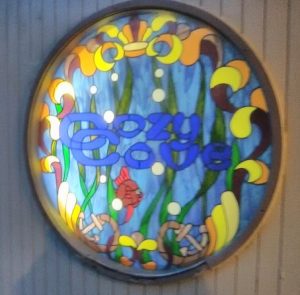 The sleep-inducing patter of the rain combined with the intermittent roar of the surf made for the best of sleep …. in spite of the fold-out bed which had, before becoming furniture en suite, in its original function, been the flatbed of a chicken-hauling truck.
The morning was gray, and lovely. After my staff has laded the considerable (but not over-much) luggage to the RV, I longed to visit and thank the front desk staff here at Cozy Cove; but alas, the office was unpersoned, and would be for some hours more.
More to the point: coffee. At the entrepot from up the beach is the Dutch Brothers Coffee kiosk where what seemed to a free spirit to be an unconscionable delay, finally I was served (for $3, mind you) the best flagon of bean distillate, this sojourn.  The perceived delay was the result of brewing each request singularly, rather than dumping it out of a bowser.

South on 101. I had it mind to make Ferndale this day; and with that idea came the Tyranny of Destination. Always poison to the purity of road and trip. Yet in this case, a noble goal.
And simple and easy and quick to accomplish, yes? Merely course south of the coast and soon, just across the state line there is Ferndale.
No.
What I should have done was make for Brookings, right at the state line to camp at the Elk's Lodge there, which was recommended me by the Eureka Troop.  Then the next day enjoy a leisurely stroll south, better appreciate Eureka for a few hours and THEN jaunt the 10 miles to Ferndale.  Alas.
My feel for distance was askance. 350 miles. 230 mile just to make the California Oregon Border (Oregon has about 340 miles of coast from Astoria to Brookings) T'was a good thing I had not the miles ahead in head, otherwise I would have ruled out the thing as too far for one day.
But there was nothing askance with the making of it.
You're always going downhill headed south, right?
It was a long day, too long and too far. Oregon is a big state, equivalent in square miles to New York, Pennsylvania and Connecticut combined. And it has a LOT of coast, coast which I coasted.
The next town of any size south was Newport. I liked the look of it, should have postponed any and all ventures to make a day there. But no, such is the Poison of Destination that even though I thought this there, I did not.
Happily there was road construction just before the bridge over the estuary of Yaquina Bay. A delay which allowed the wayward traveler time for a few snaps which otherwise he would not had. They take their bridges here in the Oregon Territory aesthetically serious …. or did in the 30's when this one was built, judging from the Art Deco nature. But then again, I never crossed a bridge I didn't like. Except for birthdays ….
The so-named bay formed by the eponymous river; by Oregon Territory standards, a short watercourse only 59 miles, rising in the rugged high ground east of Corvallis. You can imagine the ecosystem and more interestingly, the human current which flowed as time is a measure where water only knows gravity. The country tortuous, like the god's bedclothes after a celestial orgy, how can river find its way? Well, river is as it is, would not be if it wasn't.
That wasn't meant to be superfluous. Things are because they are. And since the acquisition of agriculture, which allowed the creation of the nation-state, we as organisms have lost an appreciation for That Which Is, overwhelmed by the edicts and postures by which nationalism flows. River knows no edict – only gravity.
Those mountains at the coast separating it from the Willamette Valley are punctuated by river and stream courses which – given by the gods their nature to run to sea – do so. How many watercourses are there? Crossed by how many bridges? Crossed by me this day. Hooray!
South it is a scramble up and down and around, into those river-cut crevices, road made in the day before bridges could be funded, like wagon ruts cut deep. Rain, but probably not considered rain here, but just a softness to the air. Traffic nonexistent save the occasional local, or log truck which I let go, meaning pull over and let pass.  They thunder.

Maybe in Europe they have better views. Along the south of France, up in the Swiss Alps, along the Rhine, you wonder when you trace a handsome road like this, not all peaches and cream, mind you; there is the squalor and waste which is one aspect of the human condition, then there is the sea, and the trees and the rocks and …. well, when the sign reads 15 mph at the next mule-turn switchback creek inlet road from the 19th Century, you forget what the road is not and must concentrate on what it is.
Parts of this coast seem overdone and crowded, mostly the towns; but other portions along 101, particularly when the ocean is not in sight seem like the lonely Appalachia. Guess which one I prefer.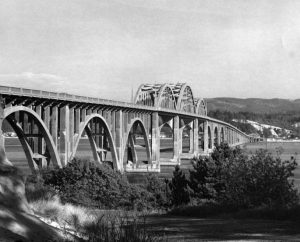 There is another fine bridge at Waldport with Gothic kiosks (although the highest span of the bridge itself is prosaic) flanking the ends, like medieval chapels where one could pray for a safe crossing.
This is the estuary of the Alsea River, a minor stream, but like many which make the coast, punctuate its mountainous face like distracting thought when one wishes to concentrate. The name of the river is a corruption of the autochthonus peoples the Ulseah.
No trolls seen.
Rugged coast, or at least the road mirrored same. Lighthouse at Point Perpetua, sounds like something Cook or Vancouver would have named. This was another of my good guesses…..
Another fine bridge- including Gothic prayer chapels (or Medieval missile silo's) at either end – over the Siuslaw River at Florence. Named for the indigenous peoples who lived along it until 1860 when – stop me if you have heard this before – they were 86'ed and their lands copped by white settlers. Fair and square, those primitives weren't using it for anything, scampering over it and just hunting or fishing or such; not like civilized land-grabbing farmers.
In the fullness of drizzle, here is Coos Bay. The mouth of the Coos River crossed by an heroic 1936 bridge – the Conde McCullough Memorial named for Bosley Crowder…. Okay okay, just kidding. This is THE GUY, the bloke what designed many of the bridges I enjoyed on 101, it is his fault, those Gothic prayer chapels and handsome details. Hat's Off!
The harbor is splendid, room for a thousand trawlers and a couple of cruise ships.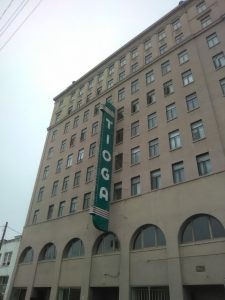 Parked in front of what was once the heroic post office, now an art museum. Strolled about what I took to be the CG of burg. Too few bars, I think. The heroic Tioga Hotel still stands, likely not offering lodgings to road trippers, but maybe to the down and outers. Dunno. Still, Coos Bay could make for a diverting week. Me? Poison of Destination seeping through my tubes.
After gassing up and re-charging the cooler with ice, ever southward through the mist.
Next Stop: Langlois.
Jacqui the able barmaster of the night before said that she had once worked at the market, and that I must, MUST have one of their hot dogs.
This is precisely the sort of G2 one wants when on the road. And the road does lead to Langlois, which the locals pronounce LANG-gless, maybe that how the fellow what originally settled there anglicized his nomen…. .
Anyway, the market had a roaring deli, I'm three back in line to get my hot dog which I requested with mustard and onions. This was ignored – local custom must dictate that all hot dogs from this market come in any color you want, provided that color is onions and sweet pickle.
After spitting out the sweet pickle, had a taste of the real dog. Bought three pounds for takeaway. Jacqui asked that I mention her name, that she said "Hi." Stark stares. I show them the menu on which she had written these instructions. Silence. Maybe I am in the other Langlois Market of which there are no others…..
Onward. Denmark. Sixes. Port Orford. I built a deck chair from Port Orford Fir, since then wondered …. it has a strong sinewy pineful smell, not engaging, but not offputting neither. Musta come from around here, before the Enviro-Thuggee's dropped the Spotted Owl bomb on the industry.
The 1848 Army Corps of Engineers who were charged with mapping this country established the California – Oregon boundary based on sunshine. Where it stopped was Oregon, where it started was the southern limit of the Oregon Territory.
Okay, okay, I made that up. But it almost could be, this day.
Cross yet another mystic, heroic span Ayn Rand-like at Gold Beach (a reference perhaps to the sand … or to the shine in the sky ….?) over the Rogue River, that watercourse up the Crater Lake watershed I could have spit over now a sizable, nobodies kid brother river and liked what I saw as the gild of the sky fought with the gray of the north.
Could have, might should have overnighted here. Many were and did; campgrounds a plenty.
No. Tyranny of Destination. Must Make … Must Make Ferndale!
Avanti! Here is Brookings. The folks at the Eureka Elk's recommended it. Should have could have put into harbor here. I liked what I saw. Yet the Poison bubbled….
Brookings on the Border! From here just a jump and a howl and Crescent City, itself a mere furlong from Eureka and then just a leap away is Ferndale!
No.
What WAS I not smoking?
IEEEeee! It is 108 miles from Brookings to Eureka!
Nothing for it – pitch in and get 'er done.
Back into the murk, the sun left the sky like my mis-applied expectations of arrival to Ferndale. Grind it out.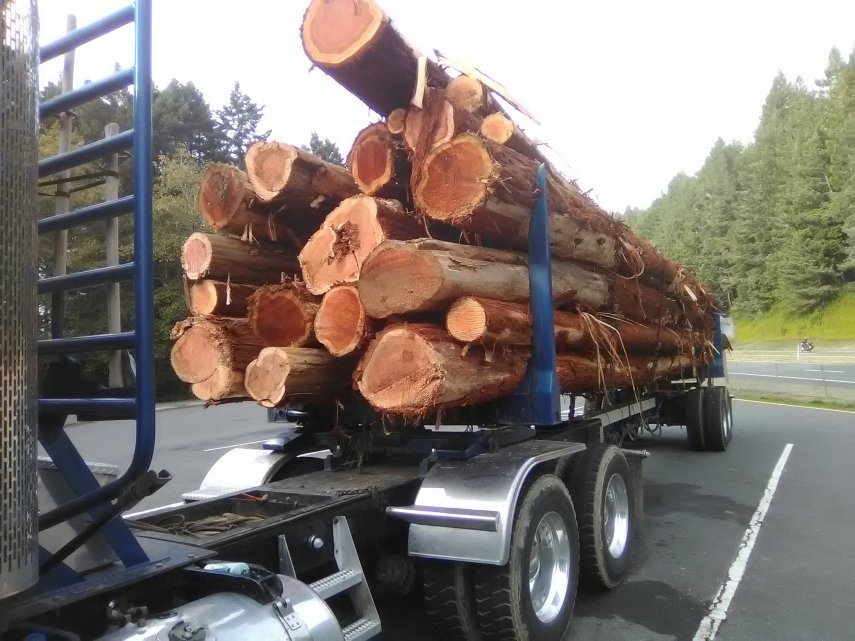 I pull into a rest stop north of Crescent City for a bleed. 
Here's one of those towering logging trucks with full load.  I ask the driver how much weight: 80,000 pounds. 
That's the equivalent of 40 Prius's. 
What kind of powerplant do you have in your truck, "Mine's pretty much stock, just 450 horse, some of those big trucks run to 500 – 600 horsepower."
Drive drive drive drive drive drive drive Crescent City for gas drive drive drive drive …. oh… here's Eureka ….well that's good.
Perfectly NOT my plan for a roadtrip. From now on, No More Than 200 Miles Per Day. Yes.  Yes, you always hurt the ones you love.

Exit for Ferndale. Like punishment, Tail End Charlie tracking a combine across the Eel River estuary … and then, finally: Ferndale.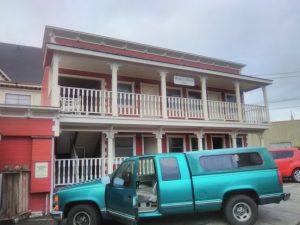 I'm so knackered I pull up at the foot of the old town and strike a bargain with Brenda at the Red Coach Motel / Francis Creek Hotel: $100 cash money for an upstairs room.
Unlade. I'm in. Now, here, finally, Ferndale.
Why Ferndale? I am so glad that you have asked.
Film: The Majestic. Evocative story, wondered about the location. Now, here I am.
Time Capsule, how ever did all this 1880's architecture survive? A walk into the past without leaving the present (prices of food and drink quite contemporary – had a Caesar and chicken strips – and some Lagunitas, not exactly your Pioneer provender….) for supper the Hotel Ivanhoe, with live (at least for another set as the band was almost as venerable as the ghosts wandering the place) down home knee-slapping jug blowin'.  Too much blowin' until the manager asked the troupe to either turn up their hearing aids or notch down the amps a few hundred dB's.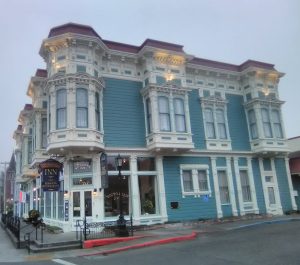 The Victorian Inn across the main intersection was a bit more hoidy-toidy, but less noisy and certainly less crowded, with obnoxious looking-over-your-shoulder security cams – half a dozen patrons. The barmistress floated in a cloud of her own, occasionally emerging from her melancholy trance to offer food and drink.
I took in a brace of Kumano oysters – which were excellent, but a bit smallish – "with champagne mignonette pearls" which look like black peas.  No one knows what these are.  I knew what the Eel River IPA was: a dwarf second cousin to a real IPA.
Outside it was all introspective drizzle. There isn't a California town come to be in the generation following statehood that hadn't a period just like the one seen here. And most lost their physical history for reasons easy to understand. Out with the Old, in with the New, particularly the new of electricity, conveniences, fire-proof (sort-0f) construction, buildings designed for their roles rather than the re purposing of the past.
How, HOW did these wonderful time capsule survive, an entire street of them?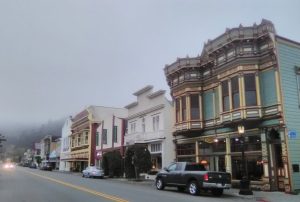 You are a business owner, successful, doing fair trade out of a 40 year old building once was a hotel, then a bordello, and now a hardware or dry goods store. The new fellow a couple of streets down, built up a new emporium, all the latest conveniences, gas lighting, plenty of room for new stock …. it drawing in the carriage trade. Young wives who naturally gravitate to the freshest and newest …. what to do?  I'm in this claptrap, broken-down, weevel-infested old pile. Best to pull it down and put up something new, something that will attract the better class of customer. YES! I'll do it.
And he does and that's why there are so few historic structures standing.
Even Monterey, Capital of Alta California, ten times the size and nearly 100 years older than Ferndale but has not ten times the number of extant historic structures for just the same reasons. 
351 miles this day – much too much.