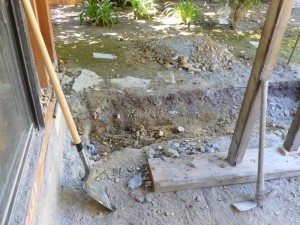 Hometec Bootcamp – Week 3 is a concatenation of horrors.
I had thought that nothing, nothing could be worse than pounding at a concrete slab with jackhammers.  But at least I was above ground.  Comes the news that Marcos and the Jersey Jerker will dig the footer for the new foundation.  I HATE dirt.  I HATE punching around in it, I HATE being down in it.  I get low.
But Marcos is right there with laser-like focus.  "What, you no need dinero?"
MIERCOLES –
Horror – dig footer.  The substrate is sandstone and clay.  We have to bust out the demo hammers to loosen the rock, then shovel it into the wheelbarrow.  A wheelbarrow I am too injured to horse out to the trailer in the drive.
Further joy awaits.  We erect scaffolding inside the house to access outside edges of wallboard to remove edge metal.  I clamber up the 12 feet and then refuse to go farther.  There is no safety railing.  The planks on which I'm standing are rotted.  Pisses Off Marcos.  I care not.  He takes on my job, apparently unphased by the height or the danger.  Super Hombre.
That evening, The Prof arrives bearing Widmer wheat – I've lemons shagged from 3605.  Whale breaching is unconfined.
THURSDAY –
If Wday was a 10 on the Horror Scale, today barely registered.  Knocked off more edge metal, then descended into The Pit.  Cut Rebar, bent rebar with The Blue Bars, then drilled holes in the crete to accept same, then wired together the rebar.  Down in the Dirt.  Done.
FRIDAY –
Hour and a half nose down into the trench wiring the rebar, then mucking it out handful at a time.
Rest of the day like a vacation – pulling staples and wrenching out more wall board – which, when compared with hammering out stucco, is like a double blond blowjob with bonus foot massage.
While Jim is teetering atop a stepladder mounted athwart rusty scaffolding wielding a percussion hammer chipping out windows, Marlon is back at the Lodge tearing out wallboard with a fingernail file while getting a scalp massage with tequila.
SABADO –
More work on the Borer chair, enough so that on the morrow, might can put it all together.
DOMINGO –
After a mid-day run across town, fighting traffic, for coffee at S&F, start to assemble the Borer chair.  And do.
The Prof comes by for the sit test, then takes it home so's the family can do the same.  I later get the assessment: There's nothing, absolutely nothing any of them like about the chair.  My 30 hours mean nothing.  The Customer is always right.  I get to refund his money.
Then depression sets in.
LUNES –
Immeasurable on the Herculean Effort Scale.  New foreman and new framer: Jerry, an old hand that was in partnership with Tom 25 years ago, and Luis, Marco's neighbor and expert stud erector.
I unerect even more wallboard and ceiling.
MARDI –
Dream: Opera director, this is the first rehearsal.  I have a part.  I have not learned my part.  I do not know the score.  I cannot find a score, or any copy of the libretto that I can match with the music.
Slack.  Jerry cannot figure much for me to do but pull out some ply, hose out some insulation, and pull staples.  The afternoon was me standing around while Marcos and Luis nearly finished the upstairs.
Called their attention to the missing closet they were about to forget to frame  Had to have scored some good points there, you'd think.
Marcos typically doesn't bring out his Makita radio until after lunche, and when he does, it's tuned to 99.9 KLOK – at least Mexican music is usually happy although by day's end one wishes for a tuba and accordion free zone.
MERCOILES –
On demo, I'm 6.7 of a Mexican.  On framing, I'm the lumber hod carrier and broom jerk.
I see why Jerry and Luis lift their foot to hold the 2 x off the deck and cut with their worm drive.  In the time it would take me to go to the contractor's table saw (not shown here), move the fence, set the mitre gauge and make the slice, they'd installed four.
Un-nerving, though.
Two hours chippy-chippy stucco from the frame of the garage doors, but not too bad, could hold the light demo hammer at an almost comfortable position.
In an uncomfortable position is Super Hombre.  His back is bothering him, and when he has to stand down, you know its 8.6 on the Richter Pain Scale.
DAY 19 –
I have nothing to do until assigned to installed the Simpson joist hangers on the floor supports in the Uber-closet annex.
Then, I pull toe-nails out of the upstairs floor joints and reverse install more hangers.
You want a fine upper-body workout that emphasizes core musculature?  Try three hours with a percussion hammer knocking out stucco around doors, some of it on a ladder.  Without the fan, I would have been knocked out.
Meanwhile, this hasn't been a good week for Super-Hombre.  He's back, looking haggard and full of pain, and mid morning punches a gun nail through the meat between his left thumb and index finger.  Nice clean wound, gonna hurt like hell.
Marcos then spends the afternoon finishing cement (footer poured this morning using a massive pump that can run to 6k psi and hose from the street to the back of the house), and digging out the footer form supports.  Super Hombre.
DAY 20 –
ATT has cut off my service.  I need to call them, but my phone doesn't work.
To Eastfield – I'm tossed off the first job: fill in a fenestration because I left a gap of 3/16 that would never be seen and has no structural significance.
Put to demo on the garage closet where I scored 5 good quality ply panels 2' x 7'
Then the five of us horsed a titanic beam – I estimate it weighed in at 350 pounds – off Tom's truck and ladded back on the one it was replacing.  Once cut, the four of us man-handled it out back, in through the wall and up on pre-arranged supports until we could set one end into a bucket, then we lifted (Marcos, mostly) the other end to get the other post underneath.
After Lunche, wasn't much doing for me, but Super Hombre, who spent the morning cutting concrete with a chain saw, and Luis The Magnificent put a beam at cross-lengths to the 17 footer (~ 12.5 lb/foot).
SABADO –
Couldn't sleep in.  Up at 6 to no goodness, but early into The Shop.
Put purpose to Wilder's raisin trays.
All day.
It's a requirements calculus of which trays to cut down to 44 cm front to back which will be the tray body, and which to sacrifice for the new end panels, which must be 14.5 cm or better in width.  In spite of having half a dozen full size raisin trays to hand, I haven't the best possible medley meeting both requirements.
Some of the end panels are bowed, can I glue them fast?  Some of the tray ends to which the new end panels will be glued are unplumb.  Can I plumb them?
I form a pattern from Masonite, mark the lines on the soon-to-be end panels for the curved shapes and the hand hold.  Hand holds that are drilled out then dross filed away.
Has to be an easier way, and there is: use the pattern to rout out the hand holds.  Tomorrow we'll try that option.
Later, The Prof arrives with Prescription: Guinness.  He knew I needed Strength.
Up drives Wildman, been in hospital all this week, new stents in right leg; more in store two weeks hence.  At least they didn't amputate.  Yet.
Up drives Curtis bearing Belgian tasters from Unibroue.  Me neither.
I don't know how they do it in Flanders, but we did it our way here.  Each of the six had admirable qualities, most of which were lost on me  toward the three at the upper end of the complexity (and EtOH) scale.
DOMINGO –
Early risers get to The Shop early to unclamp yesterslack's two trays.
It seems I can use the bowed redwood. Rig the router with a guide bushing and a spiral up-cut bit.  Test Program is a Success.  Real End Plates routed, also a success.  Takes 2 minutes and the hand hold is as perfect as anything here gets.
On to Nieman Marcus.