October 26 – West of Eden to Lakeport
You can see a lot in 9 days, or even 9 seconds.
Stephen Foster wrote: "It rained all night the day I left, the weather it was dry;
The sun so hot I froze to death—Susanna, don't you cry."
On this roadtrip, I drove too far and not enough; I saw much and missed more; I took many roads and did not take enough.
Like the best of roadtrips, this one did not resemble a schedule, nor did it have any destinations …. until it did. Destinations are the Death of Spontaneity, and Serendipity is the Mother of Discovery.
The best way to go North is to go North. The sky gods were Blue and Orb Yellow Bright.
The morning effort was simply to get to the jump-off point, which was across the Golden Gate.
Out of town and north on Coast 1. Always pleasant, until the ever-present clog getting into Santa Cruz where a gas stop was not mandated, but I vowed on this trip to refill when at all possible at the half-tank mark. And here did so.
The coast between Santa Cruz and Half Moon Bay always beckons, I used to think it achingly lonely, but it is over-run compared to the Lost Coast north of Fort Bragg, but that's getting ahead of the story. Traffic was low-to-nil, and only one long stop for some slide removal work at Waddell Beach.
About 12 miles northwest of Pescadero there's Martin's Beach to which a Silicon Valley zillionaire has blocked access – he owns the land through which the only road passes. He's taking the case all the way to the Supremes. What I cannot grok is not the elitist mentality and the 100g's spent, for a hundred grand to this guy is like ten dollars to me; what I don't get is the why. The guy doesn't live in a beach shack on the shore – what's his motivation to block access to public lands when most of the time he'll never know anyone is there?
Clear sailing to and through Half Moon Bay. Seems like I should stop for a three pint lunch at The Moss Beach Distillery, but no. Onward, that dreaded corridor between the 280 and the Golden Gate looms large in today's hajj, and in fact was the reason I didn't leave at dawn, since I didn't want to transect 19th Avenue/Park Presidio at the Crush Hours.
The new tunnels at The Devils Slide were devilishly delightful. And as in most things, the thought of the thing is far worse than the thing itself. Getting north and across the Golden Gate wasn't a slog. And driving across that bridge is always a thrill.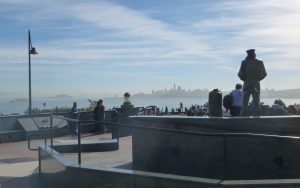 Stopped at the Marin side for shake the snake, have a snack and take in the view. And I wasn't the only one.
The Grand Canyon or Chaco it is not, but it ain't Twinkies with no filling neither.
Northward on 101 caught up in the speeding and zooming and unsafe lane changes until I took 37 east toward Vallejo. The idea was to sneak up on Napa, skirt that noted municipality, take the valley road on the east to get to get to 128 – the road to Lake Berryessa and the true start of this Road Trip.
Zoicked off 37 on the Lakeville Highway north, figured to cut east on 116, on the map it looked like farm roads to 121 and then the freeway into the Napa environs. So much for maps.
Whoa! What's this at the Lakeville Highway/116 intersection? Why, it's Ernie's Speakeasy. Hours before the drinking lamp is lit, but Crikey, this is what I'm out here for. Schreech.
Dating from the 30's, and still sporting much of the authentic ambiance, Ernie's had, in addition to the grease pit, Twenty brews on tap, including Pliny the Elder. "No Cellphone Use." Sold American.
Plotted the next steps over the Pliny. Hated to leave, but miles to go before I sleep, hopefully camped out in the Lakeport Elk's Lodge lot.
What followed was 5 minutes of farm road and then, and then: Traffic Slam. In spite of being a little ole two-lane country by-way, 116 and 121 are heavily traveled corridors. Yikes!
And then worse then: catastrophe. My camera failed. Here's it's obituary view.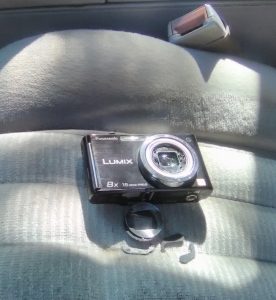 GAAAAAAA!!!! Bootless at the very start. Plans bubbled. Find a Best Buy before leaving Napa….Amazon it express to the Lakeport Lodge….draw pictures instead of re-arranging electrons. GAAAAAA!
Stop for petrol amid the suburban tumult of Napa City, then wend toward the east side of the valley and north on The Silverado Trail (my truck so named). All is/are wineries piled on top of wineries chock-a-block on, yes, more wineries. Even though this is mid-day, traffic is stodgy.
And then: release. 128 and up toward Lake Berryessa. No reason, it's big, never seen this part of California, and what? I need a reason?
In a fugue state about the camera. I have three sleeping bags, two air mattresses, 8 pairs of shoes, 6 coats, two scarves, but only one dag-blasted defunct magic box.
Then it hit me…..wait, I brought a phone (new to me five months ago) and phones in these mod-dren days come equipped with…A CAMERA! My skanky ass is saved.
But then again, maybe not.
Not knowing anything about this new (to me) magic lantern….how many Mbytes will it store? And just HOW do I get the stolen souls outten the thing?
No time for that, figure it all out later. Yes? Yes, maybe.
Windy mountain paths lead to The Lake. Not at all lonely as I had expected. Cabins up and down the slopes all along the lake.
Built starting 1953 and submerging the valley town of Monticello, it is a reservoir which provides power and water to San Francisco. Named for early Basque settlers José Jesús and Sexto "Sisto" Berrelleza, who were granted the Rancho Las Putas in 1843.
The lake stores up to 1.602 million acre feet.  43560 square feet per acre- thus 1,602,000 acre feet = 43560 x 1.602×10**6 = 69.8x 10**9 cubic feet. There is 91.23 x 10**6 cubic feet volume of the Great Pyramid of Cheops. Thus Berryessa: 765 pyramids
In a line that's a line of Cheops's stretching from Baltimore to North Philadelphia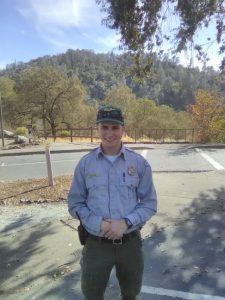 Here's the ranger station, hoping for a bit of on-the-spot G2 pull in, but it is closed, so I take in such maps as I have. Then pulls in Ranger Lawson, who looks like a Fifth Grader proud that he was chosen only seventh for the dodge ball game.
Ranger Lawson doesn't see many people, at least this time of the year. He is from Phoenix, no there's no bears we've ever seen, cabins and houses here are mostly empty, you'd be surprised at the amount of litter we pick up, sure that road north from the bridge is fine. I can't get in a word edgeways, so don't try.
Good news that on the Berryessa – Knoxville road, which trends north from the lake, then trends northwest toward the day's destination: Lakeport.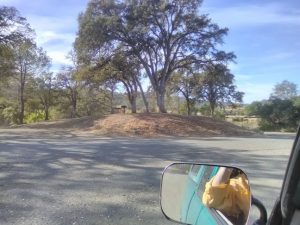 I roll through the Putah Canyon Campground near the north end of the lake. Really just due diligence as I really am not ready to park it. Nearly deserted, some adequate campsites a few rods from the campground circuit with trees. But not today.
Avanti. Took in the views from the north end and opened the cooler.
The Berryessa – Knoxville road was exactly what I came out here for: primitive without being dangerous to my suspension, narrow without being confining, tree shaded most of it, and absolutely no traffic….well, there was one guy on a motorcycle and a later a young couple parked by the roadside managing their afternoon snack.
One of your older, 19th Century pioneer paths, likely built in the 'teens (a small bridge had a dedicatory plaque dated 1920) to connect Monticello with points north. Like most roads built in that era, it follows a stream – path of least resistance – to a headwaters which was the location of Knoxville. Maybe I noticed houses there, maybe I didn't.
From here the road climbs about 1300 feet to become the Morgan Valley Road. The land has been ravaged by fire, the ground stinks of burn, and yet new life perseveres.
The road drops several hundred feet over the next 15 miles and population density increases until the now-140 crosses 53 and assumes the identity of Route 29.
29 skirts the base of the 4300 foot Mount Konocti (rising more than 2,000 feet above the lake), a dormant volcano. Relatively recent, it was formed about 350,000 years ago and last erupted 11,000 years ago. The name name is Pomo for Mountain Woman.
29 morphs into a freeway just south of Lakeport. You have to wonder at these rural boondoggles: two-lane turns into freeway and seven or ten miles later reverts back to two-lane. A state congressman generating jobs for his constituency, I reckon; or was in bed with the road construction industry.
After filling the fuel bowser, cruised the village looking for the Elk's Lodge. This little entrepot – population 4800 – must swing during the summer; lake front houses abound.
The place was peopled by the Pomo's until the whites arrived just before the American Civil War. Roll credits for "Here's What Happened To The Indians" for much of California following the Yanqui take-over: enslave the men, debase the women and at the first instance of Indian righteous indignation, slaughter every man jack of them that can be found, culpable or no. Have a nice day.
Here's the Lakeport Elk's Lodge #2704, a number that indicates it a relatively recent star in the Elk's firmament – the lower the number the earlier its establishment since the 1870's. It is a homey, tidy little enclave. Inside, I find an elbow to the bar at "Friendly Corner" and indeed my fellow Elks were just that, and of course I could park overnight in their lot, that'll be $5. Less than twice what I invested in liquid friendliness as the ladies (hot tomatoes all ….. during the Eisenhower Administration) rolled their dice (some kind of time waster the fine points of which I had not time to acquire).
"Oh, go to Tio's, it's excellent Mexican food." This from white women. Maybe. Better case the town first.
Into the burg, park off the main drag, hope I remember where, not like all those dreams. Take in the venerable court house, center square, of course, but not Civil War appurtenances, best they could do were a pair of small WWI field pieces.
Hello, here's the Gaslight Grill. There being no brew-pub here in the provinces, best I can manage. And manage well I did.
Did appreciate the family nature; not a truck driving, tractor plowing, country hooligan black hole, more like an English pub with mom and dad and the kids. I am not qualified. Worse, how worse I was since opening the cooler five xeven ellevendan hours ago.
How I made it back to the Elk's is a story of blind, really blind, good luck. Lot: no aircraft landing lights, traffic on the street light, dogs barking not much. Good campsite. Day One you never sleep well. Good Day One.
255 miles this day.