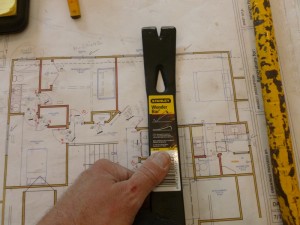 In to The Shop as is customary on the Monday Morning to drop off the previous week's timecard – Mr. Ream is to attend us at 3065 to install doors.
No Marcos on the job today – his father-in-law died.
Mr. Ream is the paragon of door-hanging efficiency – I get something of a lesson in Door-ology, but not much.
Jim lets slip – when I tell him that this is my Day 36 at this job – "Good for you; I didn't think you'd make it."
TUESDAY –
Something of an unrealized dream.  Went in even though I'd suffered a relapse to upper-respiratory infection of the week past.  Raging sore throat, near physical collapse at 2, but I had that 4:30 rendezvous and so stuck it out.
1630 at Happy Girl and here's the cute girlie I met at the tour week and a half ago at PBL.
Still Very cute.  We chat.  I'm dead on my feet.  Got to get home and to bed.  "May I call upon you in future?"
Yeah, sure.
WDAY –
My job: stay home and in bed and move a little as possible.
Which I did, except for the trip out to Grocery Cheaplet.
No sleep from 5 – 9, but felt better of the AM
JUEVES –
Remembered the essence of a dream 20 years old, The Prof has a theory: fat is the repository and now that I'm excavating fat laid down long ago, the dreams bubble up.
The barbed wire is removed from the throat, but there's sand in the joints and I feel as if I am carrying 80lbs of dive weights up a mountain 10k MSL.
Start off the day helping Super Hombre dissect the frightening scaffolding off the west side of the house, and then shifting it to the east side, where it was re-assembled.  I clambered up all the way twice – needed to.
Sent out on two field trips: one to Hayward for plywood to replace the rotted plank on which Marcos would stand, and second to Granite Rock for sealant.
Steven the owner buys the entire crew lunch.  Chicken taco's from Michaels in PG.  I've had better, much better.  But the gesture was appreciated.
PM: much needed sweeping up and tidying.
Like the new electrician Calvin long time friend to Jerry and Frank and do not like Tom calling Marcos a pussy for rightfully expressing chagrin at having to climb the rusty, rotted scaffolding.  No Safety gear.
Exhausted by day's end.
Drag home.  Prof arrives with bevvies.  Grill.
VERNESE –
No Power at Eastfield – all day.  Transformer up the street out.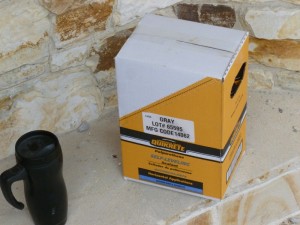 Before I could be bitch slapped about loosening up on company time like yesterday, was sent down the hill to Granite Rock this time to collect the OTHER 2 cases of sealant I should have been told to collect yesterday.
Morning – de-erect scaffold on east wall, some clambering.  Unsafe.
Scaffold shifting and window mounting.
Clean up
Early release.
SABADO –
Orcas IN MID-BAY.
Worked on fitting the tenons to the mortisii, maybe there is a reason why Hometek does the tenons first.
Party.
Ed Jarvis took in my modest expostulation about how unhappy I am now that I'm the Hometek Demolition Dawg and not in The Hometek Shop drinking from the bottomless experience well, he said: "what is good for the ego is bad for the soul."
DOMINGO –
More tenon fitting, then the clusterfuck of trying pattern cutting the leg profile.  FUBAR.  Ended up at the band saw and lots of sanding.  Gawd.  Could be muerto.  Not even a successful failure….
WEEK –
I'd like to tell you that interesting and exciting doin's were afoot at 3605 Eastfield.  I'd really like to tell you that.
My role has devolved into shifting lumber, marking doors, tearing out the inevitable MORE wallboard, and of course, sweeping up.  The occasional stucco chip-out, but not overhead, and I was even allowed to pound a few nails, just like a real guy.  The worst was having to clamber up 5 levels of scaffolding to help Super Vato; but mostly my feet were on the ground and Marcos did all the perilous work.
Sick all week, second week of the Crud, can't seem to shake it.
9 8 –
Another relapse – heart rate in the triple digits for 8 hours, lungs half full of fluid.  Almost checked into the ER.  Slagged Over Man goes not to work Monday.  No dinero for me.
9 9 –
Another new low in 3605 – rip up all the floor board in the attic to shovel the loose insulation into the bays.  We would have had to do this anyway, but why did we screw the boards down?
Then: worse.  After lunch: install insulation.  Ghastly.
Après – deliver the repaired lamp to David.
9 10 –
This misty morning, slight waft to the air, first smell of Autumn.
Yesterday's pocket emergency "Must Get All The Insulation In," was, of course, a pointless fire drill.  Yes, the Inspector was arriving today, but as it turned out, only the Exterior walls needed to be insulated for inspection, and this was easily done since we started at 7.
Probably the urgency is that the dry waller's are about to take over.  And in fact their load arrived just as I returned from at least the seventh uncompensated round trip to Hayward: nail plates and four cans of expanding foam.
Fitting the cast-off pieces of insulation into the many interstices in the master bath was right up my OCD street. More dry wall torn off – hopefully the final final last no more really drywall I'll ever tear out of that house.
Gave my resume to Stephen, the house owner, but didn't do eye contact as much as I should have.
Primed the dormer windows trim, wandered about with the broom.  Are we really turning the place over to Beck's (Ryan) Drywall on Monday?  Where's my job going?
9 11 –
I'm 15 minutes early and can't find a place to park.  Ben and his crew, Don and his men, all to shift the 147 foot tall reefer inside the garage and the 6000 pound Jacuzzi out and around the back.
Before I can warm up the spa is out the driveway on dollies looking like a linebacker on a tricycle.  Next, it's put the reefer on an appliance truck, which it overwhelms and by shear force of manpower tip it back enough to clear the gates of the garage.  The spa was up on trucks on edge and around the corner before I could get to the back and manhandled into place on the back piazza easier (not that I helped much) than I expected.  Get enough Egyptians and you too can build a pyramid.
Crew disperses.
Mud Crew at work upstairs slathing on smooth to that which was once rough.
Odd-Job Johnson trims foam, hangs insulation, shuts his mouth.
PM: lumber shifting, and it will come to no good, more mouth shutting, and tool shifting.  Apparently we're shutting down and letting the dry waller's take over Monday.
Marcos is off to another job Friday, I still report (Day 50) to 3065 Friday.
Jen the house owner (who will let her husband Steve live in it so long as he is Obedient…) in to check to see if the serfs are working until 4.  We are.  I don't load ALL the oak stiles from the former stairs into the truck, but most of the semi-choice ply.
Home and The Prof waiting.  No Marcos, No Jerry who I invited.
9 12 – Day 50
Is this my last day on Eastfield, my last day on the job?  Tom is there early and actually Hands Me My Paycheck.  I say thank you.  No word on my career future.
Jerry and I hunt down upstairs floor squeaks, I re-hang some denim insulation, then shift all the tools and hardware to the garage.
After Lunche ( I miss Marcos), I'm sent to The Shop to pick up a sander for to abrade the remaining oak of the staircase.  When asked, Mr. Ream says, "Strip it."  I agree and so drop $80 of Hometek cash at Hayward for a gallon of stripper, a sack of rags and a pair of nuke-capable gloves.
Back to the Job: Jerry's sussed out the remaining (we hope) floor creak and is off.
I evolve a four step program for the stairs: Strip, scrap, wipe, sand.  Good to have my hands on wood again.
Friday!
SABADO –
I made good toast.
Later, in The Shop, sorted through the week's swag: double show surface 7/16" ply in long wide and narrow long sections, and the oak stair stiles.  Parked the ply out in Area 47, and the 22 short and 58 long stiles in the blue locker.  And the prize: 5 end stiles, big, big stiles.  Desk leg size stiles, if you take my meaning.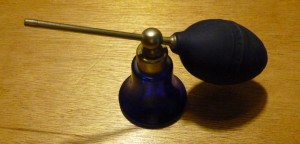 Snorked out a holder for one of Marsha's Grab Bag Treasures.  It's a Devilbiss perfume atomizer, I'm guessing 1950 – cobalt blue glass bottle.  The holder is needed, I thought, to display the thing without putting further stress on the already somewhat eroded upper inserting of the squeeze bulb, which shows some cracking.
Off the Lamp Dalek inside of a minute comes a candlestick which I drill out so's the snoot of the atomizer can slip in and thus the bulb sits vertical.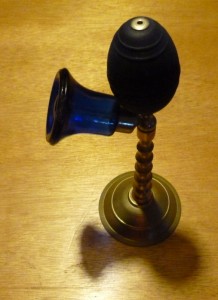 Per ardua, ad astra.