Deserts and Hot Springs – Thanksgiving
Unlike thousands of my fellow Americans this Thanksgiving Holiday, I did not drop thousands of dollars to fly hundreds of miles to spend hundreds of hours with people they do not wish to be with engaged in sloth, overeating and football overdose.
Instead, I found the 101 freeway south, just missing the (Neptune Be Praised) rains here in West of Eden.
My destination, if destination there be, was LA and the Slackman's.
I like the 101 when I am not in a rush, as I was not this day. The expedient route is to hike east at Paso Robles, over the 46 (the James Dean Death Highway) to find I-5 at Lost Hills, which has no hills and is not in any way lost.
But as I was in a wandering mood, I assumed the more scenic 101 from Paso Robles, down the Cuesta Grade, through San Luis Obispo (SLO – the fourth in order of establishment of what was to be a diadem of 21 missions stretching from San Diego in the south to Sonoma,the farthest north).
I did not stop for devotions.
Back to the sea coast at Pismo Beach and across the rolling hills to the Santa Maria River valley, in country of sere hillsides and distant craggy ridges.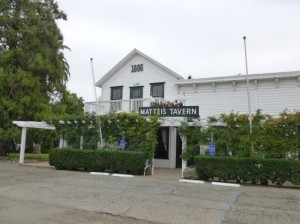 Just as the 101 veers west toward the Pass of Gaviota (Spanish for seagull), I zoomed south for a look at the Mattei's Tavern in Los Olivos. Closed. As it has been the half dozen times I've tried for a gawk. What you get for a pre-dawn start.
Settled for casing the little village, once the southern end of the Pacific Coast Railway out of SLO. Some of the shops were still shuttered, but I enjoyed the morning air, the scents of holiday candles, and had a rude snack off the tailgate.
From here, it was south through the lovely Santa Ynez Valley on the San Marcos Pass road (CA 154) up and over the mountains to descend into the Santa Barbara region.
Instead of a quick jump back on to the 101, boodled east on 192, which skirts the foothills, I intended to connect with the Casitas Pass Road (CA 150) and circumnavigate Lake Casitas, which never have I seen.
But I was defeated by the twisty, narrow 192 which threaded through the tony exurbs like a skein of yarn after the cats finished playing. Too many stops. The route like a cross between Carmel and the hills of Sherman Oaks.
20 miles later, at Toro Creek Canyon, I admitted defeat and caught the freeway. it felt good.
A normal person would stay on the 101 all the way to the 2, which can offer a route directly north from Burbank to Glendale, my destination. I am not that person.
Instead, just south of Ventura, took the 126 east for 6 miles, then offed at 118, your route of choice into the Simi and San Fernando Valleys. And a time capsule. Once beyond the dusty environs of Saticoy, the two-lane 118 transects nothing but 12 miles of truck gardens and orchards. No strip malls, no gas holes, no apartment sprawl, just like it must have been during the Kennedy Administration.
But, as your route of choice to valley's Simi and Fernando, it is also heavily trafficked by trucks. Trucks which always lead the conga line whether 3 cars or 30 ahead.
Gassed up in Moorpark, then took the 118, which is now a multi-lane freeway to the 210, which skirts the northern rim of the LA Basin and thus to Montrose, Sparr Heights, and Risa Place. Done.
Tecopa
What is now the somewhat unappealing mud-colored rumple of the greater (or lesser) municipality of Tecopa was, 5 – 3 million years ago, a vast lake.
This was because the climate at that time, the late Pliocene through the Pleistocene, was more wet. It had no outlet. About 500,000 years ago a channel formed by which the lake assumed an outlet, the effluent running into the southern end of Death Valley, which until about 100,000 years ago was itself a massive lake that we call Manly, for one of the Anglo pioneers who first saw the valley.
This is why the area around Tecopa is covered with humps and mounds. These are the undulated accretions of hundreds of thousands of years of sedimentary deposits, deposits in some places over 200 feet in depth.
Starting about 100,000 years ago, the climate became more dry, and eventually Lake Tecopa and Lake Manly evaporated long before there is any evidence of human presence. There is, in the sedimentary strata, much evidence of animal occupation.
Our interests in Tecopa (named for a Paiute chief) were less geologic and more sybaritic. Specifically, the hot springs.
There are half a dozen hot springs available to the sybarite, probably not the worst of them at Delight's Hot Springs Resort.
To call Delight's a 'resort' is to call a raccoon a mathematician. While it might be possible one day, today is not that day.
Delight's is emblematic of the what seems to be the American desert que sera sera. Nothing at Delight's (except for their ability to charge your credit card) is efficient,
complete, or well made. I attribute this to the desert, the seemingly limitless and unending quality of the Mojave.
"Well, I found the paint ….. maybe tomorrow I can rustle up that paint brush, the job'll still be there."
And so Delight's is about exactly opposite of what the traveler would expect from a Palm Springs soak, and at about 25% of the cost.
We set out Friday after packing Slackman's smallish SUV to the gunwales, I for one following the maxim that it is better to have gear and not need it than to need it and not have it.
Our course – a well traveled path – was from Pasadena east on the 210, thence north-easterly on the 15 up the Cajon Pass, across the high desert and along the Mojave River (mostly) to Baker. From Baker due north on 127 the 57 miles to Tecopa, which is just south of the southwest corner of Death Valley proper.
It is about 220 miles, and with a break at Barstow, about 4.5 hours. Somewhat less if you push along with the rest of the Vegas-bound speeders … which we did not primarily in the interests of Slackman, who was driving and had left his credentials back at the manse.
Because one of our party absolutely had to have a McDonald's fish sandwich, we stopped, after gassing up and a provision foray into the local Von's, at Barstow Station. Barstow Station is a money changer's temple at which, seemingly, all the tour buses on route to Vegas stop. It is a shloch bourse, a cornucopia of the aromas of fried noodles, slowing rolling hot dogs on their heated treadmill, of unfamiliar men's cologne, of patient lines awaiting that which only McDonald's can deliver.
The cheeseburger and fries were as good as they ever were.
Tecopa Proper
Delight's is an enclave with four enclosed hot water mineral baths, six detached shacks, one three-room concrete blockhouse, and our deluxe lodgings #8 an hodgepodge of chambers that never were meant to be connected. And true to the Delight's philosophy that a job well done never happens here, each room offers the rich, full pallet of the manana credo.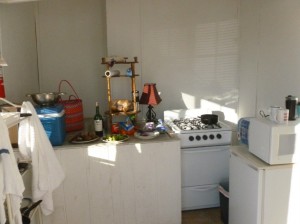 The 'kitchen' first. I term it the 'kitchen' because in this alcove is a down-sized gas range missing it's pilot light, a dorm-sized refrigerator capable of temperatures down to about 40 degrees F and a blocky nothing intruding in on the whole. No sink.
The Main Chamber contains two capacious beds, by all reports quite firm and thus comfortable.
On the wall about seven feet up is an industrial quality four plug outlet connected to a stout cord that runs over the door to the 'kitchen' and into the wall.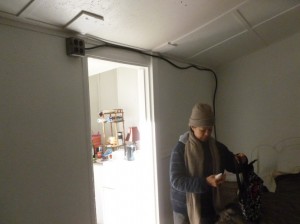 There is nothing nearby what requires plugging in seven feet above the floor. On another wall is another industrial-quality appliance: a breaker box. It was so imposing that we feared should we flip one of the breakers all of Parumph would be suddenly plunged into darkness.
An extension cord led from this chamber along the carpeted floor, around a door jamb and into …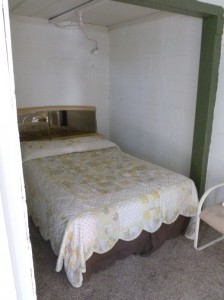 …The Secondary Chamber, which I claimed as mine own. That extension cord from the Main Chamber was the sole source of electrical power in said chamber, except for a ceiling light that was plugged into what looked like an ancient knobbed switch itself part of what looked like a gas light fixture.
In and through the concrete block wall was an air conditioner with a three foot 220v cord …. and no outlet into which to plug it this side of Las Vegas.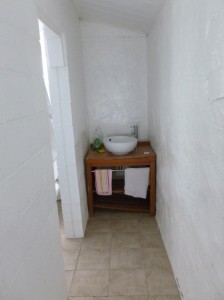 There was a shower room with a toilet, this reached via a ten foot passage through 'my' Chamber. There were two sinks, one a modren cabinet top bowl fed by a contemporary faucet loose on the cabinet and sporting at a rakish angle a busted lower shelf; and in the privvy proper was a toilet, a free-standing sink, and a shower capacious enough to thoroughly scrub down two buffalo's, at the same time.
The toilet provided not only personal convenience, but due to the wrong sized flapper in the tank, contributed perpetual leaking music all the night long. All the night long until I shut off the feed value, which happily there was one of.
Thus settled in and it being the shank of the afternoon, clearly it was time to fire up my new grill.
It is a set of nesting pyramidal steel shapes that fold closed, or open. It is also a $50 experiment – will it hold coals sufficient to cook? Can the grill temperature be modulated between nuclear fusion and annoying only-warm? Can alternate fuels, such as forest debris (of which there is none here save the hair pinlike leaves of the tamarisk. And likely it ought as I forgot, when we stopped at the market in Barstow to procure charcoal.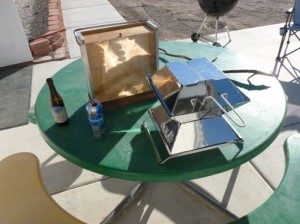 The Grill Report: it grills just fine with charcoal briquettes. Briquettes that we kiefed from Cabin #1. We escorpulated same on reports from our innkeeper that the guests in #1 were departing and no longer would need their briquette remnants. In this, like all things here, something wasn't quite right, as we shall see.
The line to take in the baths was constant and unremitting. I posited that the queue would dissipate near the supper hour and this came to pass and whilst Way Way hiked off into the unknown, Slackman and I did a fine soak in our favorite, Bath #4, the only soak clear to the sky, the other three sport screen or mesh twixt the bather and the stars….
Thus warmed, only cold beer could justify the layering up on clothing as the sun disappeared over the Amargosa Range. And more grilling.
And then the wages of sin were made due.
A woman asks if we'd seen anyone purloining their charcoal. It seems they weren't leaving after all. I fessed up and ponied up the charcoal, ashamed. And yet, the story was not all penitation. Way Way followed her over to #1 to apologize further, and came back with the charcoal, less what #1 needed for the nights cookery. Defeat into Victory!
Victory into Defeat. All night my chamber clicked, gnawed, clacked, rattled, snnnnkkkkksnkkkk. Like trying to sleep on a boat in a marina with earplugs but you can still hear the sheets rattling about the masts.
It was not the window blind cord. Not the window blind louvre adjust, not the fan inside the non-pluggable A/C. What WAS that infernal noise? A rat above the drop ceiling gnawing on the wiring? Bats skittering in and out? Yet another feature of Delight's, a night-long symphony of annoyance – unsound repose ensued.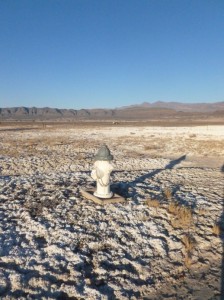 Tecopa Daya
Of the early dawn we learn that not only had Slackman forgotten his wallet, he had left behind the only true essential morning tool: the plunger for the French press. It was cowboy coffee for us, but happily, I had brought along my camp press and so we pressed that into duty and all was well with the morning jolt.
Of the day: I wanted only to visit Death Valley Junction, and peek into Death Valley itself.
This plot was agreeable to all and off we motored.
Over 100 years ago intrepid motorists blazed the trails of the pioneers, and of the thousands of teamsters and miners who worked this part of the desert over like a teen-aged boy does his first cheerleader. They typically traveled in packs, ideally driving identical auto-mobiles so that when the inevitable breakdowns occurred, the spare parts were interchangeable, or at worst, one of the jitneys could be cannibalized. It was weeks in the doing because there were not roads suitable for anything but a freight wagon with two feet of clearance and so there were days when a day's progress of a mile or two would be considered satisfactory.
We proceeded at a somewhat more contemporary rate.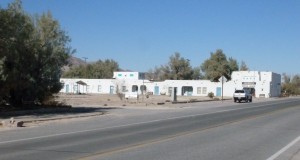 North on 127 tracking the course of the Amargosa River, we sometimes even witnessed water on the surface of the land! Past the monolith of Eagle Mountain and dead north to Death Valley Junction.
Once a company borax mining town about the time of Wilson's Presidency, today it is landmark of squalor, desuetude, and of the kind of magic one can often find in lonely places: the Amargosa Opera House.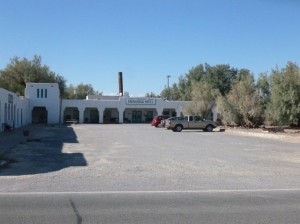 The present structures were built in the mid-1920's as a borax mining town. They included company offices, a store, lodgings, a hotel and a community center, now the opera house, defunct since the 1930's when borax mining shifted to the high desert north of Victorville.
It became an opera house because of the obsession, and a beautiful obsession of a New York ballet dancer, Marta Becket.
In 1967, Becket happened onto the now derelict compound when her car needed repairs. It was kismet. She abandoned whatever was left of her New York stage career (she was then 43) and devoted herself to both the restoration of the compound and the production of theater here. It was crazy, still is crazy. And wonderful.
We stopped, parked, and wandered about the place and happily, there was an on-going tour, which we joined. I would have been happy just to capture some images, but we were ushered into the opera house itself.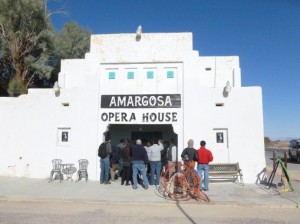 Nothing could have prepared me for what was there.
Marta, something of a painter as well as a dancer, had spent three years creating trompe l'oeil on the walls, as if there were galleries surrounding the stage, peopled with nobles, gypsies, priests, nuns, whores, roisterer's, and gay caballero's, all from the 17th Century. So that she would always have an audience. And in the early years, that was all the audience there was.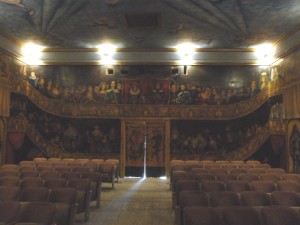 If ever you need an reminder of the power of will, the insanity of throwing over everything you think you need to follow your Muse, this certainly would be it.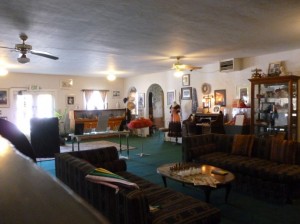 The hotel lobby is right out of 1938. Maybe the kitchen from the Eisenhower Administration.
The nearby Tonopah and Tidewater Museum – less of a museum and all of an HO scale train set of Death Valley Junction and a half dozen other long-gone stations – was adjacent.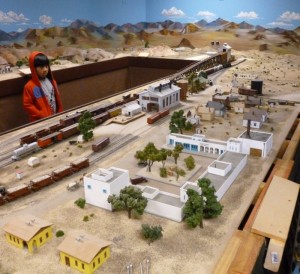 And more than worth the no-price of admission. Although I personally think that little grown up boys playing with their train sets is about as useful as video games, it is less harmful than Al Sharpton.
Where do you go after this?
Zabriskie Point.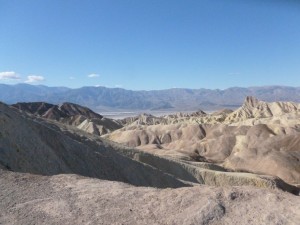 All I wanted was a reminder of the majesty and other-worldly qualities of Death Valley. This I got, in spite of the pestilent horde crowding the overlook unabashedly and unselfconsciously taking their selfies.  Feh.
A couple asked me could I take their picture. Of course I could …. until they wanted Death Valley as a mere backdrop to their self-absorption. I told them no, I wouldn't and in the presence of this stupendous natural wonder their vanity was grossly out of place. They found someone else.
Where do you go from here?
Back to Delight's for a soak and fire up the grill, this time readjusting the briquette position within the upturned ziggurat fire bunker which delivered something of a more mellow and longer lasting heat for the chicken, brats, onions and yams.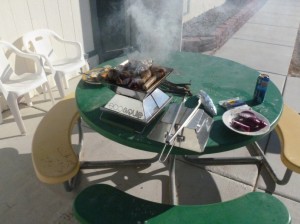 The Slackman's are and have been embarked on a near-strict paleo diet, and it has completely eliminated the intestinal travail which had necessitated packets of Tums a day for Slackman. I'm hardly an acolyte, but it does make sense biologically.
Grains were never a part of the diet organisms such as ourselves evolved eating for the past 5 million years, until about 10,000 years ago. Just about three years before people stopped caring who was playing in the Superbowl, only tuning in for the ads.
As such, our digestive systems have not caught up with a grain and sugar-heavy diet, and it costs us in obesity, and possibly other systemic woes such as atherosclerosis, not to mention high stock values for soft drink companies.
The bar was opened (non-paleo bevvies, unless my O'boom was crafted from potatoes….), the sun was shining, the predominately Asian clientele formed a constant stream to the baths, and all was right with the desert.
Except for that all night long clatter from the ceiling of my chamber. On a whim, I poked at the drop ceiling. It was metal. Akin to the skin of a yard storage shed. It turned out just pounding on this metal from below released some stress which had built up since the Pleistocene, and so no more sleep-disturbing rattles were heard.
Tecopa to LA
While we departed at 0800, thousands did too from Vegas and so we became part of a steady stream – and oft stagnating clot – on the 15. The same person in our party again had to have a McDonald's fish sandwich in Barstow, which was a grievous tactical error. And not only due to the horde, but the fact that at that hour of the clock, only breakfasts viands were served.
We shall not do that again soon.
In the fullness of time, we negotiated the freeways and were once more (relatively) safe back in Sparr Heights.
Postscript
The aboriginals of the American Southwest all shared a similar creation myth: they came from out of the Earth. As such, the land, the mountains, canyons, rivers and plains were elemental to them, and they a part of the land. No wonder the imponderable chasm which separated them spiritually from the Europeans, who had been seizing and warring over and losing land for thousands of years, just as they treated gold or women or spoils of battle, another thing to possess, or fight for.
The aboriginals, through their Earth creation myth, had the proper perspective: to feel as a part of the Earth. That the Earth was all things to them and as such could never be 'had' or 'owned' since it was part of their very being, all their beings. It would be as if aliens descended from the stars to tell us that They owned our DNA.
The clash between these stone-age peoples and land-hungry Europeans, and later Americans was unavoidable. There was no middle ground. Only annihilation and subjugation, given their inferior numbers and lack of political unity, was the only possible outcome.
These thoughts possessed Slackman and I as we drove over the vastness of the desert.
But in spite of the memories of the ghastly pogroms visited upon its original inhabitants, we sensed how these titanic open spaces, mountains blue purple farther away than a man could walk in a week could cleanse the soul, and renew the mind.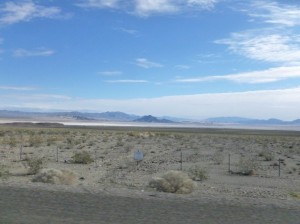 And so it did.