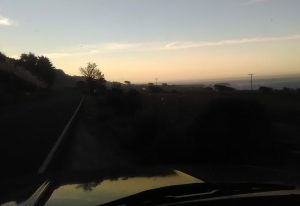 I cannot recommend the Gualala Country Inn, and was glad to pack up and out in the gloaming. I knew I had an easy day of it for the run home, or at least easy once I cleared the Golden Gate and made 280.
First things first: Coast it the 48 miles to Bodega Bay. Up and down and all around this morning, some of the high road and treacherous curves quite reminiscent of the majesty of The Sur far to the south. And just as dangerous.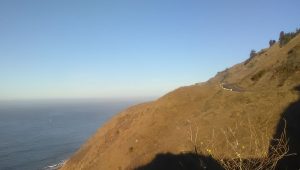 Bodega Bay and the run inland to Petaluma a joy, this aspect of Marin far from the wealthy NIMBY liberals; solid ranch country …. although you have to be up to your knees in money to operate hereabouts.
Gas up in Petaluma, another of those worthy villages which can (and has) offer much of interest, particularly to the beer hound. But not me this day.
101. Almost a pleasure, the dodge-em style driving after all that mountain goat path trekking. The Golden Gate always a thrill, and in this case, the gift that keeps on giving. I was far to the left out of the toll booths and so missed the quick right into the tunnel to Park Presidio.
Got to see the Palace of Fine Arts close up, though. I knew to make for one of the east/west avenues which would cross Park Presidio, and so it was up and down and stop and go and stop and more stops via Cow Hollow, Pacific Heights and Presidio Heights until I connected with California Street. Having never memorized all the cross-streets, I wasn't sure this connected with Park Presidio until I was at the very intersection.
Back on course, traffic this Saturday morning heavy, lights frequent and of overlong duration, the sights scenic. I like this part of town, hell, I've never seen any part of the magic city of San Francisco that I did not like. But then again, I've not been to The Castro for 38 years.
Finally, Finally I-280 and the speed course to home.
Tally:
Days – 9
States – 3
Miles – 2084
Petrol (gal) – 142
Expectations – 1
Expectations dashed – 1
Poontang – alas, alack
Tasty Brews- all of them
Sights Seen – some
Roads Not Taken – many, too many
Close Encounters with Death – Unknown, but surely non-zero
Blow-outs, citations, physical vehicle incursions – zero
If we do not see America, as it is, we are prisoners; prisoners of somebody else's vision, of food that comes to us wrapped in plastic, of names for trucks of a color or canyon or mountain, captives of a story not our own when the story comes from us, from our ancestors, from the hard men and strong women who braved all, walked across deserts, were scalped, died trying and left their seed as a trail blaze on a tree.
A trail blaze for us to follow and then cut our own. That's the meaning of The Road.