They film in churches, don't they. Here's a shoot in one of mine: Tor House, the fairy tale castle built by Robinson Jeffers. The castle in stones from the beach, to go along with the towers he wrote.
Asked to be Test Proctor – which reads ever so much better than Location Minder – I looked forward to seeing professionals work, and to having solid quality time at Tor House, since my duties, if we can call them that, would be slight.
Well, enough of a prelude, the Poet dives right in, does she not?
The weather an issue. Forecast for deluge. Puts a crimp on the shoot, Jeffer's would have smiled.
0800 Tuesday I open up and right on here's the crew.
I
expected something of a scaled-down movie shoot, and that was about right. The van and Suburban and the property truck jonny on the spot.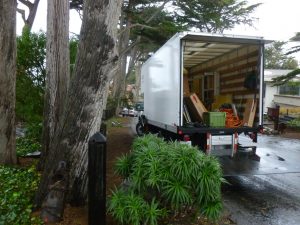 Wispy girlies and seasoned campaigner debouch to take over the East Wing of Tor House. I wonder how can I manage this wave.
Turns out that did didn't have to, which is well, since I prefer to be paid for doing nothing.
From where does all this money flow? There's the Producer, the Director, the Set Manager. There's the Photographers, two property men, three stylists. A hair dresser and then there is the Client, Ralph.
We'll get back to Ralph in a para. Tor House was built, by hand, beach boulder by beach boulder by Jeffers. No plans, diagrams, schematics or blueprints have been found. He raised it up out of where he found his Muse; his house, Great Hall, and Hawk Tower he caused to come into being.
Men and women build their lives out of a Plan. Cue Laugh Track. Jeffer's never had a plan neither, but he raised up such a rain of poetry that it got him the cover of Time Magazine, and somewhere's, they still teach his gifts.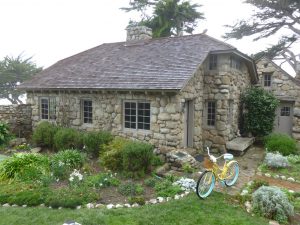 The barn, the first stones laid on Carmel Point; Jeffer's hires himself toward speeding the progress. Finds he likes working with stones and so the house came to be. Being here today the crew shoot some interiors.
The theme, I get from Ralph, is English Country Spring. Stone and surge and wind and clouds so tight you can't know there are anything but gray glower we got. Not much of daffodils or Kentish fields awakening from winter's slumber. But that's the magic of fantasy reveal.
Inside and I am relieved.
This crew gets Jeffers and shows they get it with respect. To their credit. Kind to the room, and struggling for power for the outlets (which date from 1949) have only two plugs.
The two waifs – this day's talent – pose and preen and smile and prance. Hundreds of clicks by Dave, the principle, but not only, photographer. Born in Egypt to missionary parents, he grew up in India, speaks three languages.
In spite of the intermittent rain, the shots move outside where it becomes only a decision about which rocks to use as backdrop. The properties man, Ed, has an arsenal of flowers and crates and galvanized buckets and even a new retro (can I write than on radio?) Huffy in Palm Beach banana and Caribbean sea blue.
The talent, loosely draped with flimsy frippery bear up well under the 50 degree temps and shocking wind, but as Ralph said, "They're getting paid enough."
Not props or rocks or flimsy costumes, not high winds or stunted flowers are enough. 
Now arrives the Stunt Dogs.  Airedales rented out for bonus English Country Spring effect.  Tucker and Grover, the pooches, are down with the shoot, for their human friends are quick with the treats and all they have to do is be themselves.  No posing necessary.
I figure I'm looking at $60k for these two days at Tor House. All for two dozen alluring pic's on their website: www.altardstates.com.
I guess that sum due to the size of the crew:
Two ingenues, subject of the shoot, or rather, the drapes hanging from their lithe forms
The Producer, Francois
The Director, Bart
Haley, the Set Director
Ed the Property Man and his assistant Aaron
John the hair stylist
Judy the make-up maven
Togs (never did get her name) the Dresser
David the principle photographer
Chris, the second photographer who spent most of the shoot making the Making Of, his video camera wandering about with his a Neewer steady-cam.
Jeff, the location spotter
Dave, the image management boffin
The emporium got its start about 10 years ago in Tennessee out of a Christian bookstore, and there is still something of a messianic fervor with Ralph, VP of Marketing. But there's no proselytizing, only an honest and healthy sense of joie d' vie. I like Ralph, I like the crew, I like getting paid to do what I do best: nothing.
Vince, Tor House Major Domo (and Nam era Naval Aviator) spells me at 1:30. He knows I've a gig at Pacific Biological Laboratories, regaling Ojai Valley School freshmen at 3. I am grateful for this, and grateful for the gig. I'm not doing it for nothing.
Thursday
BIG, BIG storm over the night, limbs/power down Carmel.
Thus, the crew a bit late getting to Tor House. Slow start as candles just won't get it. Off for a rental generator as we all ease into the plan …. whatever the plan is.
Today is Plus Size Shoot, I reckon, but Celestine wouldn't take 8th Place at the Rubens Flemish Flab Fest. She's just big boned, but then again, this if for a clothing purveyor; fat women don't want to see clothes they might consider on other fat women. I reckon.
Did you ever see hearing aids, corsets, long-reach toe nail cutters, bath tub seats or corn plasters advertised with pictures of doddering ancients? No, the cheap bicycle peddler, or reach arm is always shown being used by a thirty year old who doesn't need it.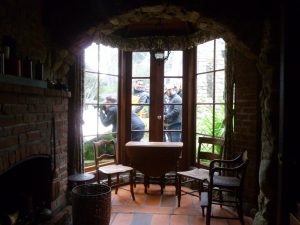 It's drenching down rain all morning, yet there isn't a single interior used this day. Back fence, down the hill toward the beach, Sea Gate all the while canopies and brollies and click click click to pose pose shiver pose.
I know it is going to be a long day, a day where only the costumes to be photographed matters, and so I pace myself with long, languorous, silent (except for the GROWLING of the chainsaw across the street, it's following act, the GAARRRRRRRR of the leaf blower, the AAAANNNNNNNNNNNNN of the generator) contemplative musings of the Great Room.
I try to fade into the background whenever I emerge from The House, but got caught twice in the shot and had to be waved away. These people are tried and true at their craft, they have primped and frimped and snapped and set up and taken down and seen dust storms and rains showers and desert heat and frigid cold across all the continents.
And I resent them for that, a job that at the end of the day hasn't any more lasting than last year's calendar picture of daisies for March. Shallow, I know. My resentment, I mean.
The interregnum for Celestine to change into Style 313 (she carries a little card on which the number is written so that downstream the websmythes can put the proper encomiums with the proper frock) the crew don't gamble about, don't skylark, try to get less soaked by the incessant rain, joke and ramble, move the cabana hither, and take in the massive storm surge.
20 foot waves. Would be the a surfer's calling except that the break which isn't a break would break their bones because the continent edge is all rocky bottom, no smooth sand under surf.
Jeffers immersion follows the steady creep of outfit, click, duck the rain, back to the East Wing, mark time, me in the Great Hall listening to ghosts … or would have liked to. The groundskeepers next door have much to blow. Wet leaves on the sidewalks, pavements and imagination take longer to molest; and hence HHHARRRRRRRRRRGFGGGGGGHHHHHHHHHHHHHHHHHHH for HOURS.
Well, maybe it was only an hour and a half that seemed like a lifetime.
Glancing at a woman is now considered a felony. Murder, already a crime has bonus features if it can be proven you HATE who you just smote. Illegal aliens can now quality for driver's licenses, but leaf blowers, leaf blowers cannot be banned.
The Rake and Broom Industries clearly employ impotent lobbyists.
At lunch, 2PM – this day Pizza My Heart – of which I do not partake, I think I hear there are 10 more outfits to go. That puts us into night. No time for me, for I am out of time.
Rain comes, crew soaked, talent prances, electrons exchanged, prop man stands down, and then…. Then they all clap.
It's a wrap! It's only 3:30.
What follows is everyone (except me) pitching in to pack up, pack out, clean the set and get gone.
There is a group photo at the foot of Hawk Tower, and then, like waking from a dream, I am alone at Tor House.
Alone with the magic of a magic castle, enriched by the ephemeral magic of men and women engaged in pursuit. A pursuit of the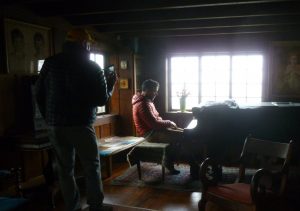 ir visions: stylists, photographers, designers, salesmen who offer …. offer what? I've seen the product, but that's not what these people are about. They are about their crafts. The photography I get, the clothes I don't. The management I understand.
And I still resent them … well, just a little.