Carrizo Camp Memorial Day Weekend 2016
It was the best of times, it was the worst of times.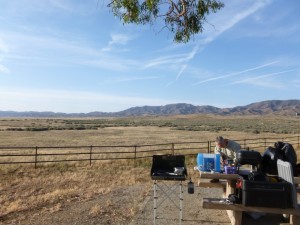 Slackman called the meeting. As he is a salaryman, his free time is dictated by The Man, and so we had to convene during an holiday, which even spiders know is the absolute worst time to travel.
We hadn't been on the Carrizo Plain for five years. Where does the time go?
Go. 0700 hours the Friday of the Memorial Day Weekend. How much southbound traffic via Big Sur can there be?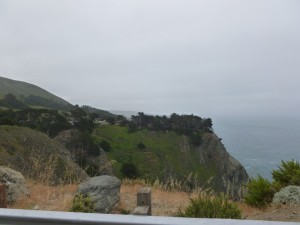 Not much. Not much northbound either. Aside from three episodes, one with Utah plates driving even slower than I was, I had the road to myself.
Which is the best way to enjoy Coast 1 through Big Sur. There cannot even BE such a road, and such a road could not be built today. Not that it could not be built, but that it would not be built. Too many voices.
Delicious gloom all the delightful 65 miles of curves and switch-backs, descents to the surf and ascents 800 feet above the sea.
There is nowhere in CONUS such as this merger of sky, mountain and ocean.
South of Cambria, took the 46 (Eric Seastrand Memorial Highway) east and broke out of the coastal murk. Diverged south on Vineyard, crossed 101 and stopped for petrol in Templeton.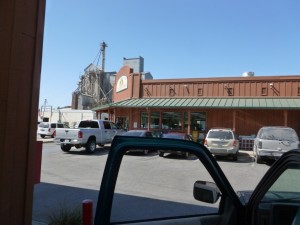 Templeton, founded in 1886, was once the end-of-the-line for the Southern Pacific. The present town center dates from the re-build after an 1898 fire.
Gased up, I fired out of there, across the Salinas River to cut south on the Templeton Road. Handsome ranches here.
Found 41 (the Robert and Pat Nimmo Memorial Highway) and enjoyed it eastbound – ranches not so free from rural squalor as those closer to Templeton – to meet 229 south through the hamlet of Creston. Don't bother.
Soon enough met with 58, which, if one wishes, one can enjoy from Santa Margarita at the 101 all the way to Barstow.
I enjoyed it not much as much of the eastern 20 miles this side of the Soda Lake Road which transects the Carrizo Plain is akin to driving through a strip mine.
At last! The Soda Lake Road. 25 miles to KCL Camp. But first, a peek at Selby Camp. No one there – it's our fallback position should KCL be maxed.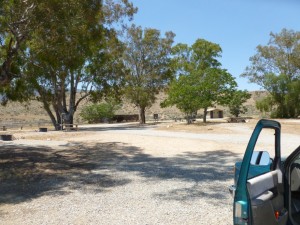 Amazing. KCL Camp – there is no one here. No one here on the Friday of a three day weekend.
I pitch camp. As I'm erecting the cabana, in pulls my rustic comrades: Slackman, The Sandman, and Roisty. The Sandman is a colleague of Slackman, a Dev/Op engineer originally from Bangalore, India. Although he, his wife and daughter have lived in California since 2006, he had never been camping. It felt like introducing Gandhi to sushi.
Slacking ensued. Temps in the 90's. Apollo laughs at my puny SPF 50, Burn Baby Burn.
The coolers are officially opened a bit earlier than the prescribed 1500 hours, due to the excessive heat, don't you know.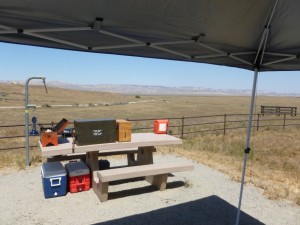 Supper was something of a melange of Nuremberg sausages and some lovely chicken curry courtesy of The Sandman ('s wife, while somewhat Westernized, he does not cook).
I expected a trailer onslaught just about 1900 hours, or that time required to get off work, pack the Suburban, marshal the kids, hitch up the Wayfarer and make the hour drive from Bakersfield.
But no.
Three car campers and a fireman from Atascadero pulling a pop-out. His generator, while loathed, was one of the more quiet on the market, and parked on his side of the trailer.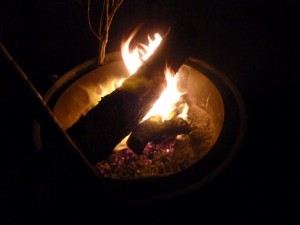 Sundown and cooling temps prompted the start of the ceremonial fire, about which we neo-cavemen clustered, dreaming the awake dreams of the legions who have done so throughout the eons.
Sleep did not come easily, or well, or lasting.
But came the dawn.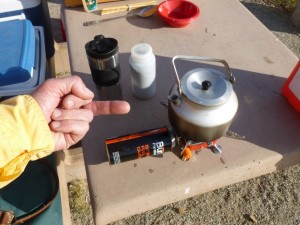 Rousing, I was eager to test my new camp stove. Full Power! On with the pint of water for coffee…. 5 minutes …. 10 minutes ….. 12 minutes. The water was becoming annoyed, but was still not boiling. What? We are only 2400 feet in elevation. I retreat, whimpering to Slackman's Coleman with its ready supply of H20 @ 212.
Why does coffee always taste better at the camp?
We revisited the curry leftovers, and Roister rounded up some eggs and hash browns.
Slackman and Sandman motored off to look over Selby Camp. Roister and I lounged, the morning already too warm, but clouds ameliorated somewhat the heat.
Clouds that gave thought to ….. rain? NO. Couldn't be this time of year. Yet of the afternoon we could hear thunder, and Apollo drove ominous dark mists our way from the southwest.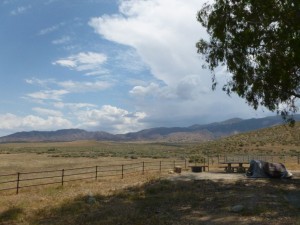 Cooler diving ensued with the return of the scouting party. Selby was but sparsely occupied, but more importantly, Slackman pushed on past the campground and discovered a favorable site above same with good views.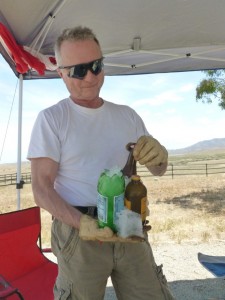 Cooler diving which also revealed insufficient insulation between the dry ice and the water ice. In desert conditions, it is policy to double-stage the cooler: water ice (which can be used for drinking) on the bottom and dry ice on the top to keep the water ice icy. But one must sufficient segregate the dry ice (temperature = -109 F).
I stoked the Toolbox Grill and did a tri-tip, which turned out just the way I wanted it: singed on the surface, rare and juicy inside.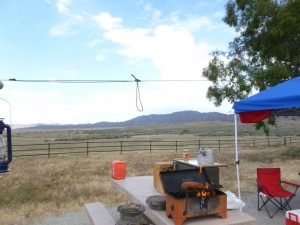 I was reeling from the heat by about 1600 hours when there were drops from the sky. No, not Presidential campaign propaganda, but water. 20 minutes of it. Not enough to wet the ground, but Apollo Be Praised!
Knackered, I retired to my RV, and yet sleep was still elusive.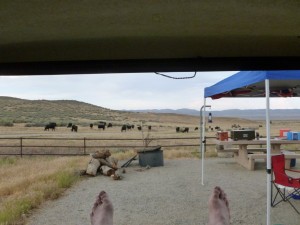 More elusive at midnight when came the nightmare from which there was no awakening.
Seven trucks pound over the cattle guard. I figure it's gang-bangers and we are all to be murdelated. I'm packing, but no match for automatic weapons.
I stand ready as the entourage circles the campground, then parks at the far side. Voices, clamor, tailgates slamming open. Then, other voices: women, children.
Phew. It's likely not a murder raid. They are organized, well equipped, but still, it's midnight thirty. Roister and I confront them, can they turn off the radio. They can.
An hour of setting up their tents and tables and gear.
Roisty and I again accost them: Can we not all get some sleep.
We are ignored as the buffet commences. At least not all-night yak orgy.
Their revelry sounds at 0530. All them pack back into their trucks and bugger off. All of them. A family reunion, I suppose.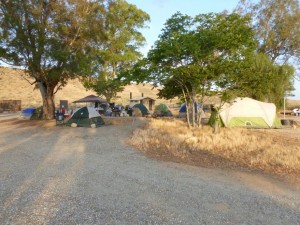 We pack up and bugger off as well, wanting no part of another sleepless night.