October 31 – The Dalles to Lincoln City
Dawn comes slowly of the north in this Oregon Territory, plans must come faster, in this territory. I cannot say why I turned away from the Nez Perce country. No reason, but this being a road trip no reason is a reason.
To saltwater. Lincoln City. Why? What is why on the road?
Next: how to get there and avoid Portland City?
Not much of a set of choices. Freeway and skirting, or shoulder Mount Hood and freeway.
Temps above freezing of the shoulder – this way leads.
35 leads south from the village of Hood River, skirts and shoulders of Mount Hood, then meets 26 to turn west. The terrace up from the river fine orchard country; logging trucks pound up and down the highway, and the mist turns into drizzle turns into rain as the truck climbs. Topping out about 4800 feet, I can't see 200 meters let alone the volcano cloaked in pine and clouds.
This 45 minutes would have been dull – mountain recluse to forest villages to exurbs of Portland – featuring astonishing low, yet very likely prudent speed limits, had it not been for the beguiling Autumnal aroma; like none I've ever experienced.
Yes, there is the crackly dry smoky scent of Fall leaves smoldering on the burn pile; yes there is that moist, slightly decaying fulsomeness of organic matter returning to that from which it came. But there was something more, something neither sweet nor savory and both, some essence of pomander, almost cinnamon. It was intoxicating.
Also heady: $3/gallon gas at Damascus.
In the fullness of traffic signals, slow drivers (again, we sniff the tyranny of Destination, for I had set my signs on Lincoln City) and suburban sprawl, I make the freeway that leads to the freeway that dumps me off at Salem.  Thence 22 West to 18 West.

Sailed through the state capitol with nary a thought of exploring it. Sad. And soon out into the farm country headed west for salt water.
The overcast lowered, but the road was fine and lightly traveled, towns were scant and I was on 101 – here two lane – almost before I knew it.
And here is Lincoln City, a coastal municipality with a sort of harem-scarum history; it is an amalgamation of half a dozen independent communities somewhat inelegantly drawn under a single umbrella, the names of which none could be used as all the others would feel slighted and so how can anybody go wrong with Lincoln.
Like many Oregon coastal towns, it stretches out along the shore like a salt-water loving snake: long and not too thick; the sea-view being a snake's choice.
Skiffington and I had lodged here during the 1993 roadtrip from Bellingham to LA. There was a brewpub, a new thing then, and I wondered what I would this day find.
Rain almost like it meant it, what I meant was to secure lodgings at not too pretty of a price, this being off-season. The Inn at Spanish Head had me covered, at $139, the desk clark unable to dicker. Took a left turn at the Dutch Brothers coffee kiosk and came, through no fault of my own, into paradise.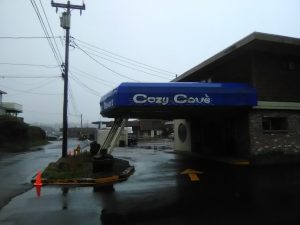 The Cosy Cove. It looked unchanged from when it was inflicted upon the sand during the Kennedy Administration. Molly at the front desk had charge of my future; seafront rooms with fireplace run to $120.
What, Molly, can I get for $60 cash?
She hadn't really the feel of the thing because she gave me a suite with sea-peek for $55. And here's Darren in for some free coffee, figured him for the Cosy Cove Utility Infielder, as circumstances later proved correct.
My top-floor flop was a 1970 haven for hippies, drop-outs, beach-bum wanta-be's and father and wife and five kids after a long drive in their Chevrolet Impala station wagon.
Kitchette, fireplace, wood balcony with a fine sea view, if seeing just the surf and not that much farther qualifies, which it did. Separate bedroom and fold-out couch. Perfect.
As my Sherpa is lading the baggage up the stairs, here's Darren tinkering with a door. "Is there any firewood hereabouts?" "I can find you some, I'm also the handyman at the [Whatever the Nearby Inn Is], give me a minute." Before I can uncoil my USB cable he's back with an armload. I sport him a fiver, he looks at me like Father Christmas came early. One good deed deserves a lawsuit, I MEAN another good deed.
Once the Sherpa's surmounted the stairs lading all the baggage upforth, it was momentous going forth, see what sort of entertainments a traveler might enjoy.
From the local Howdy Stranger: See This Buy This sheet comes four likely candidates:
The German thing – Autobahn 101

The Tasting Room – The Black Squid

The Other Tasting room – Rusty Truck Brewing

The chain brewpub – McMenamins.
Ground Truth, this being …. well, whatever day it is, the German Thing is closed for its one-day-a-week urlaub.
The Black Squid appealed to me like a mouth full of ink, with additional bonus obnoxious noise, the over-amped rhythmic lickspittle fancied by the bearded, musically illiterate sector of the Electorate – the brew selection was ample and at simple prices, but the sonic annoyance clearly indicated this beer cave catered to the angry, the over-stimulated, those capable of poor value judgments regarding cash investments toward Yet Another Tattoo, and the tone-deaf. Flee!
Tasting Room Not Yet Open was the Rusty Truck Brewing parlor. I park and take in the crows I wanted to take, but a waste of .357. What's this in back? A fellow making sawdust, gets my attention.
Finish carpenter? No, just working on the trim, new tasting room, I'm the owner. Cut all this maple, look at that grain!
Gorgeous faience, nuance like looking into the mind of a god wondering about whether banana's go good in milk and Cheerios with sugar. Offers me some cut-off's which I gratefully accept. But here's a hunk of firewood no good for anything trim-wise. It's a piece full of nothing but hole, but long and wanting to being something, it said that without me hearing and without me hesitating.
Here is what it asked to be, and became, weeks later.
Back north through the light traffic and incessant wet.
Here's The Cruise Inn, a pig sty warm and dry.  The clientele, as near as I can make out in the dim, are the cast of the local dinner theatre production of "One Flew Over the Cuckoo's Nest."  I'm hosted by a matron with the equivalent of multiple Ph. D's in Human Psychology and Social Pathology, but this isn't the place.
Why not sniff out that chain brewpub, north end of town?
Somehow through the rain I find it, resolve not to lose sight of the truck in the parking lot, like all those other dreams.
In spite of the tchtchoke visual overload, McMenamin's was home: extensive brew list – all made on site – ample pub food, and Jacqui ably womaning the bar.
Not an isolated event, there are nearly 60 of these brewpubs scattered throughout Oregon and Washington – started by two brothers in '83 out of Portland.
Rain came down like it was Portland, Amazon, Brazil. A good time to be under a stout roof with fine drink and soon enough, hale fellows well met.
In comes the Otis Men. Brett, the old hand (must be 43 but all sagging like) and his eager journeyman Michael, on the mainland for a time from his home in Hah-VAAH-Ee.
Brett at the top of his game and wage scale, yet a tiredness wrapped him like a damp blanket. Ever the Fixer, I suggested a vacation, but he is so far from hearing goodness of soul he only wanted to go home, Oregon City. I tried to put a spark under him. You can but try.
I had on the snacks: The Omnivore pseudo-pizza, give it  Jersey 5 & one of the finest bowls of clam chowder I've ever savored. 
Had on the brew:
Cascade Head – a golden ale which I found honest, clear, clean and with just the right edge.
Hammerhead – Warm, embracing and non-threatening supposed Pale Ale, like sanitized Tex-Mex for white people
Ruby – This ale is a whore with too much perfume, run away!
Brett …. and this is weird … shared his sandwich with me, and so in this country of potlach, I shared back. But strange.
All good things lead to other things. I was thinking about a cozy fire in my suite at the Cozy Cove and made it so.
The rain all night a soothing percussion … so long as there is a stout roof above.
211 miles this day – just right.